By Raimundo Ortiz (@AroundtheMundo)
This is the AFC North preview. The teams will be ordered according to how I see them finishing. I'll break down each team's offense and defense in brief fashion, highlight an underrated player or two, then give a win range. Slapping a win total on a team is silly to me–I'm more interested in ceilings and floors. If a team's win range is 6-12, that doesn't mean I'm predicting 12 or 6. Just means I see them as a team that can wildly fluctuate.
Baltimore Ravens (Last season: 8-8)
Offense: In 2013 the Ravens managed an 8-8 season despite having the worst offensive line in the NFL in terms of running the football, according to FootballOutsiders.com. It didn't help the O-Line though that their running backs were truly among the worst in the league. Ray Rice was not himself, dropping to 3.1 yards per carry from 4.4 just one season ago.
Bernard Pierce wasn't any better, at 2.9 yards per carry. It all put a ton of pressure on Joe Flacco to carry the team with a subpar group of receivers. This offseason, the Ravens added wide receiver Steve Smith to Flacco's arsenal, and get tight end Dennis Pitta back. If the RBs fail again, Flacco's better equipped to lead the way.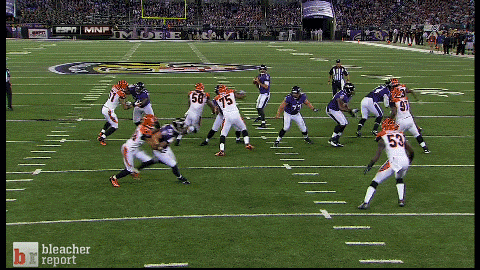 Defense: The defense was missing Ray Lewis and Ed Reed last year, but on the whole it was a pretty damn good D. The defensive line is powerful and will grind down running games, and it's backed up by serious linebackers. Terrell Suggs will start the season fully healthy, Courtney Upshaw should improve on the other edge, and rookie C.J. Mosley is expected to contribute right away. This was a Top 10 defense last year, and it should be even better in 2014.
Underrated Asset: DE/OLB Elvis Dumervil is a sack master, and he's just on the bench according to the Ravens' depth chart. If they're keeping him fresh just for passing downs, Dumervil could be an absolute terror against more ground-down linemen.
Floor to Ceiling: 8-11 wins  Continue reading →